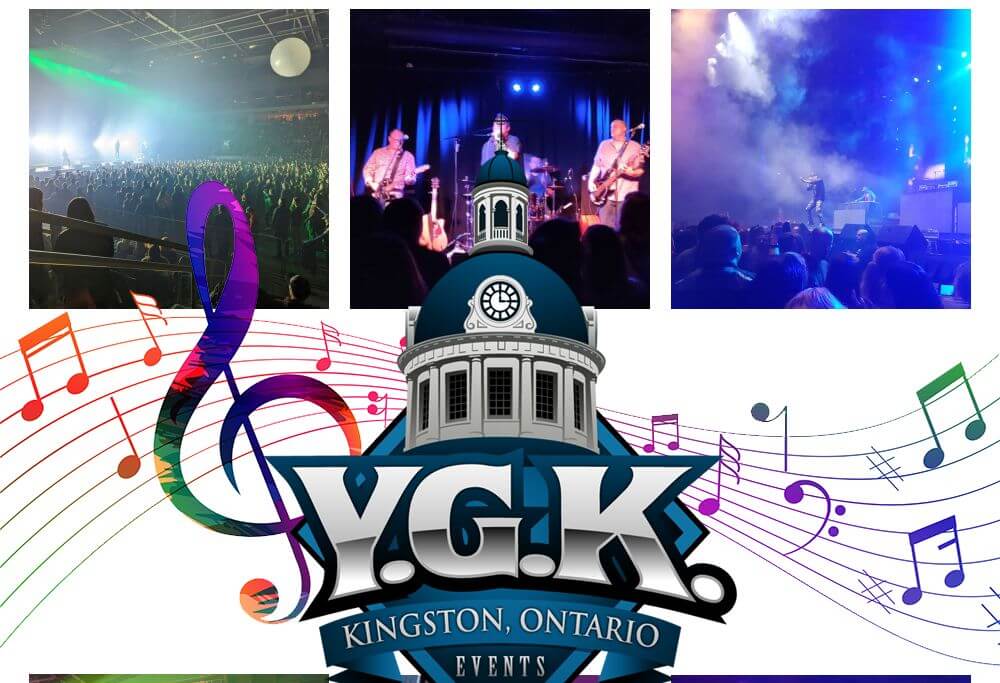 Date
Sep 30 2023
Expired!
YGK Live Music: September 2023
YGK live music listing for the month of September 2023.
Here is a snap Shot of some of the amazing live shows this September: Sparrow Blue, Billy Talent, Sarah Church, Ghetto Express, Möbius Trip, Red Compass Rose and the Great Lake Swimmers
Some great festivals in September: The new Wolfe Island EQUINOX & the Cloud 9 Electronic Music & Eco Art Festival
Live Music will be updated through out the month and sent out every Thursday on social media.
Be sure to check with each venue prior to attending a show as plans change, sometimes with just hours before the show.
Sept 6th Pump5 @ overtime sports bar
Sept 6th Gerald Mcgrath @ Spearhead Brewery
Sept 7th Courtyard Concert Series: Quentin Coughtrey @ The Bank Gastrobar
Sept 7th The Royal Jam @ Blu Martini
Sept 7th Chris Murphy @ R.C.H.A Club
Sept 7th Clear Breeze @ Hotel Wolfe Island
Sept 7th Michael Tremblett @ Royal Tavern 2.0
Sept 8th Christopher Jackson & Friends @ Blu Martini
Sept 8th New Friends, COLOURTHEORY, Lauren Carson @ The Broom Factory
Sept 8th The Change @ R.C.H.A Club
Sept 8th Acoustic Fridays: Teagan McLaren @ Kirkpatricks
Sept 8th Möbius Trip, Red Compass Rose, Josh Hurst @ The Mansion
Sept 8th Sparrow Blue @ The Merchant
Sept 8th Cloud 9 Electronic Music & Eco-Art Festival @ No.9 Gardens
Sept 8th Hellbound Trail @ Royal Tavern
Sept 8th Wannabe – A Spice Girls Tribute @ St. Larry's Pub
Sept 8th Brian Flynn, Andrew Vanhorn @ Tir Nan Og
Sept 8th Kojak @ The Toucan
Sept 9th Frank Ryan @ Blu Martini
Sept 9th Steve Cheesman and the Heeters @ Hotel Wolfe Island
Sept 9th The Empties, Charlie Houston @ The Mansion
Sept 9th Cloud 9 Electronic Music & Eco-Art Festival @ No.9 Gardens
Sept 9th Fist @ Overtime sports bar
Sept 9th Christopher Jackson @ Spearhead Brewery
Sept 9th Fast forward to Friday @ Tir nan og
Sept 10th Sunday Afternoons with Savannah Shea @ Musiikki Cafe
Sept 10th Sarah Church: Letting Go Tour 2023 @ Musiikki Cafe
Sept 10th Neil Carter @ Spearhead Brewery
Sept 11th Mike Allen Quartet @ R.C.H.A club
Sept 13th Doug Van der Horden @ Spearhead Brewery
Sept 14th Courtyard Concert Series: Julia Finnegan @ The Bank Gastrobar
Sept 14th Jon Mclurg @ R.C.H.A Club
Sept 14th Simon Kempston @ Hotel Wolfe Island
Sept 14th Great Lake Swimmers @ Isabel Bader Centre
Sept 14th Walk Right Back: The Everly Brothers Story @ Grand Theatre
Sept 14th Bruce McElory @ Royal Tavern 2.0
Sept 14th Neil Carter @ Tir Nan og
Sept 15th Christopher Jackson and Friends @ Blu Marini
Sept 15th Boston Levi, The Codas @ Broom Factory
Sept 15th Rey Sur @ R.C.H.A Club
Sept 15th Emilie Steele & The Deal, Brookfield Line @ Hotel Wolfe Island
Sept 15th Kings of Queens @ The Mansion
Sept 15th Richard Cranium @ Royal Tavern 2.0
Sept 15th Ghetto Birds, Mat Almeida @ St Larry's Pub
Sept 15th Wilson Hillan Band @ Tir Nan Og
Sept 16th The Fade Kings @ R.C.H.A Club
Sept 16th Feast of Fields: Dead Root Revival @ Furnace Falls farm
Sept 16th Green River Revival @ Grand theatre
Sept 16th Kasador @ The Mansion
Sept 16th Hexvoid, Death Perception, Brutal Play, and Corpsepit @ Overtime sports bar
Sept 16th RetroKings @ Spearhead Brewery
Sept 16th Kevin and the Kitchen Sink @ Tir Nan Og
Sept 17th The Intercultural Arts Festival @ Confederation Park
Sept 17th Dave McGrath @ Spearhead Brewery
Sept 19th Ten Foot Pole, Drunk Tank,The Beta 58's, Master Nate & The Reprobates @ The Broom Factory
Sept 21st Melissa Lauren @ Hotel Wolfe Island
Sept 21st Billy Talent, GOB @ Leons Centre
Sept 21st Spencer Rice @ Royal Tavern 2.0
Sept 22nd No Limits @ R.C.H.A Club
Sept 22nd Wolfe Island EQUINOX Day 1: Kyoko Ogoda, The Soul Motivators, Stephen Fearing, Jason Wilson's Ashara @ Hotel Wolfe Island
Sept 22nd Acoustic Fridays: Teagan McLaren @ Kirkpatricks
Sept 22nd Red Dirt Skinners @ Next Church
Sept 22nd Paula Wood @ Royal Tavern 2.0
Sept 22nd Brian Flynn and Andrew Vanhorn @ Tir NAN Og
Sept 22nd Ghetto Express @ The Toucan
Sept 23 Jon Dore @ The Broom Factory
Sept 23rd Michael K. Myers, Dan Charbonneau, Mark Ready @ R.C.H.A Club
Sept 23rd Forever Seger @ Kingston Grand Theatre
Sept 23rd Keith Glass Band @ Leopard Frog Barn
Sept 23rd Andrew Vanhorn @ Spearhead Brewery
Sept 23rd Sittin Ducks @ Tir Nan Og
Sept 24thnd Wolfe Island EQUINOX Day 1: Kyoko Ogoda, The Soul Motivators, Stephen Fearing, Jason Wilson's Ashara @ Hotel Wolfe Island
Sept 24th Marion Drexler Band @ Spearhead Brewery
Sept 25th Quirks of Human Nature @ Royal Tavern 2.0
Sept 27th Five Dollar Dates @ Spearhead Brewery
Sept 28th Beats workin' @ R.C.H.A Club
Sept 28th Richie Young @ Hotel Wolfe Island
Sept 28th Dewy Roadkill @ Royal Tavern 2.0
Sept 28th Neil Carter @ Tir Nan Og
Sept 29th Alastair Greene, Chris Antonik @ R.C.H.A Club
Sept 29th Marker Starling, Dorothea Paas @ Hotel Wolfe Island
Sept 29th Howard Jones Acoustic Trio @ Kingston Grand Theatre
Sept 29th Dave Wickerham @ Korean Church
Sept 29th Bruce McElroy @ Royal Tavern 2.0
Sept 29th Late show The soul Motions @ Royal Tavern 2.0
Sept 29th Brian Flynn ANd Andrew VanHorn @ Tir Nan Og
Sept 29th Dennis Bouwman & The Wild Roses @ The Toucan
Sept 30th DAX, ROBBIE G @ The Broom Factory
Sept 30th Big Phat Horn Band @ R.C.H.A Club
Sept 30th Free Association Blues Band @ Hotel Wolfe Island
Sept 30th The Musical Legacy of Chicago: Brass Transit @ Kingston Grand Theatre
Sept 30th Cody Allen James & Good Co. @ Spearhead Brewery
Sept 30th late show B.A Johnston @ Spearhead Brewery
Sept 30th Five Dollar Dates @ Tir Nan Og