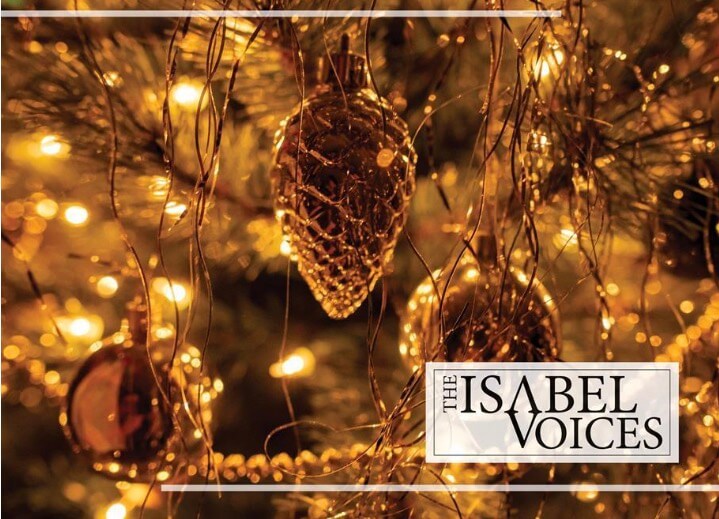 The Isabel Voices Presents A Festive Celebration
Sunday, December 10, 2023, at 2:30 pm for an extraordinary afternoon of musical bliss as The Isabel Voices presents "A Festive Celebration" at the renowned Isabel Bader Centre for the Performing Arts.
Prepare to be enchanted by the ethereal voices of The Isabel Voices as they take you on a magical journey through a delightful repertoire that captures the true essence of the season. With Morten Lauridsen's captivating "O Magnum Mysterium" and the enchanting Mid-Winter Songs, along with beloved seasonal favorites, this concert promises to be a joyous celebration of music and community.
The talented vocal ensemble of The Isabel Voices is known for embracing connection and collaboration, reflecting our contemporary world through engaging and dynamic performances. Accompanied by piano, string quartet, and harp, their voices will soar, enveloping the audience in an atmosphere of enchantment and wonder.
At The Isabel Voices, we believe in the transformative power of vocal music to inspire and uplift communities. We curate annual concert seasons that showcase solo and ensemble voices while collaborating with composers and visual artists. Our commitment to diversity shines through as we champion traditionally underrepresented groups and present dynamic performances that reflect the richness of our contemporary world.
A Festive Celebration is more than just a concert; it's an opportunity to join a community of music lovers who appreciate the magic that music can bring to our lives. Whether you're a seasoned concert-goer or new to the world of vocal music, this event promises to be an uplifting and heartwarming experience for all.
So mark your calendars for December 10, 2023, and join us at The Isabel Bader Centre for the Performing Arts for A Festive Celebration presented by The Isabel Voices. Let the captivating melodies, the harmonious voices, and the festive spirit bring joy and warmth to your holiday season.
Tickets are limited, so secure your seats early for this not-to-be-missed musical extravaganza. Come with your family, friends, and loved ones to share in the magic of A Festive Celebration. We can't wait to celebrate the season with you!