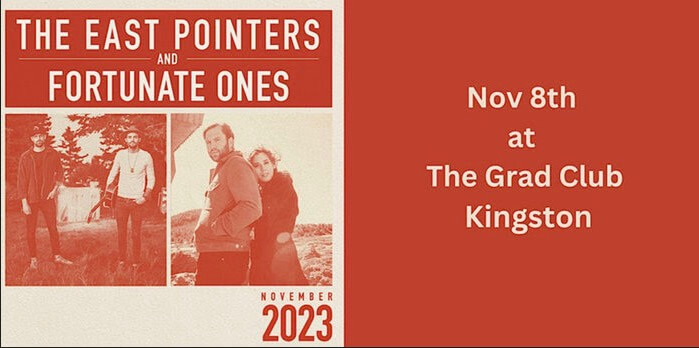 Date
Nov 08 2023
Expired!
The East Pointers and Fortunate Ones
Experience Authentic Canadian Folk at Kingston Grad Club: The East Pointers & Fortunate Ones Live!
Come November 8th, immerse yourself in the rich tapestry of Canadian contemporary folk music as The East Pointers and Fortunate Ones grace the stage of Kingston Grad Club! Representing the vibrant heartbeat of Prince Edward Island, The East Pointers, Juno Award winners for their album "Secret Victory," meld traditional Celtic rhythms with modern sounds. Their dynamic blend of Jake Charron's intricate guitar work and Tim Chaisson's soulful fiddle is nothing short of mesmerizing. Sharing the stage, the pop-folk duo, Fortunate Ones, embody the spirit of Newfoundland. Andrew James O'Brien and Catherine Allan's journey, from a chance harmony at a private gathering to establishing one of the most heartwarming duos, underscores the magic that unfolds when one dares to say YES. As they pour their wide-eyed energy and optimism into each performance, you'll find yourself connecting not just with their music, but with the stories and emotions they bring to life. Grab your tickets and embrace an evening celebrating the depth, diversity, and connection of Canadian folk music!