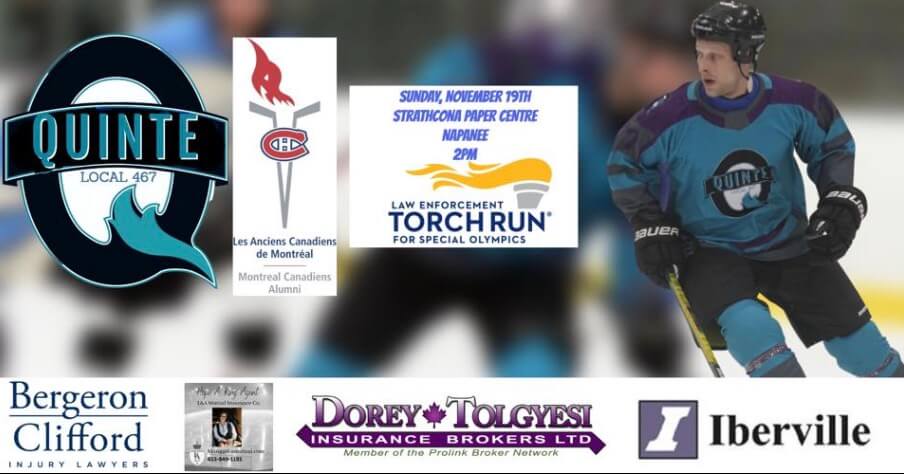 Date
Nov 19 2023
Expired!
Quinte Detention Centre vs Montreal Canadiens Alumni
Mark your calendars, clear your schedules, and let the anticipation build up. We are thrilled to announce an exciting event that is sure to thrill hockey lovers and community supporters alike. On Sunday, November 19th, 2023, join us for an epic face-off between the alumni of the legendary Montreal Canadiens and the stalwart Correctional Officers from Quinte Detention Centre.
Taking place at 2pm in the renowned Strathcona Paper Centre in Greater Napanee, Ontario, this match-up promises a spectacle of skill, strategy, and sportsmanship. Whether you're a die-hard Habs fan or a fervent supporter of our everyday heroes, the correctional officers, this event promises an unforgettable experience.
And there's more to this event than just the exciting clash on the ice. The proceeds from the game will go directly to support the Law Enforcement Torch Run for Special Olympics, making this not just a celebration of hockey but also a charitable occasion where your participation can make a difference. By attending this game, you're not only indulging your love for sports, but you're also contributing to a noble cause and supporting Special Olympics athletes in their sporting journeys.
Ticket will be made available September 5th HERE, so keep an eye out for updates to ensure you don't miss out on the chance to witness this unique hockey showdown.
Our gratitude extends to our generous sponsors and supporters who have made this event possible:
Dorey and Tolgyesi Insurance, a trusted insurance provider always ready to go the extra mile for its clients.
Hope King from L&A Mutual, committed to providing exceptional service and reliable insurance solutions.
Bergeron Clifford Personal Injury Law, renowned legal professionals who uphold justice with unyielding commitment.
Iberville, a company synonymous with quality, dependability, and innovation.
We also extend our heartfelt thanks to our unwavering supporters:
HockeyStickMan, a true ally of every hockey player and enthusiast.
MacKinnon Brothers, known for their dedication to quality and authenticity.
Parsons Brewing Company, crafting remarkable beers that create unforgettable moments.
Join us in this spirit-filled hockey encounter and make your Sunday a memorable one. Enjoy the riveting game, immerse yourself in the electric atmosphere, and take pride in knowing that you're playing a part in supporting the Special Olympics.
The ice is being prepared, the jerseys are being ironed, and the players are readying themselves. The only thing missing is you. So mark the date, gear up and get ready to cheer on your team.
We look forward to welcoming you on November 19th. Stay tuned for ticket information, and let's make this event a grand success. In sports, as in life, it's not just about winning; it's about participation, unity, and fostering a spirit of community. So let's come together, and make this a game to remember!