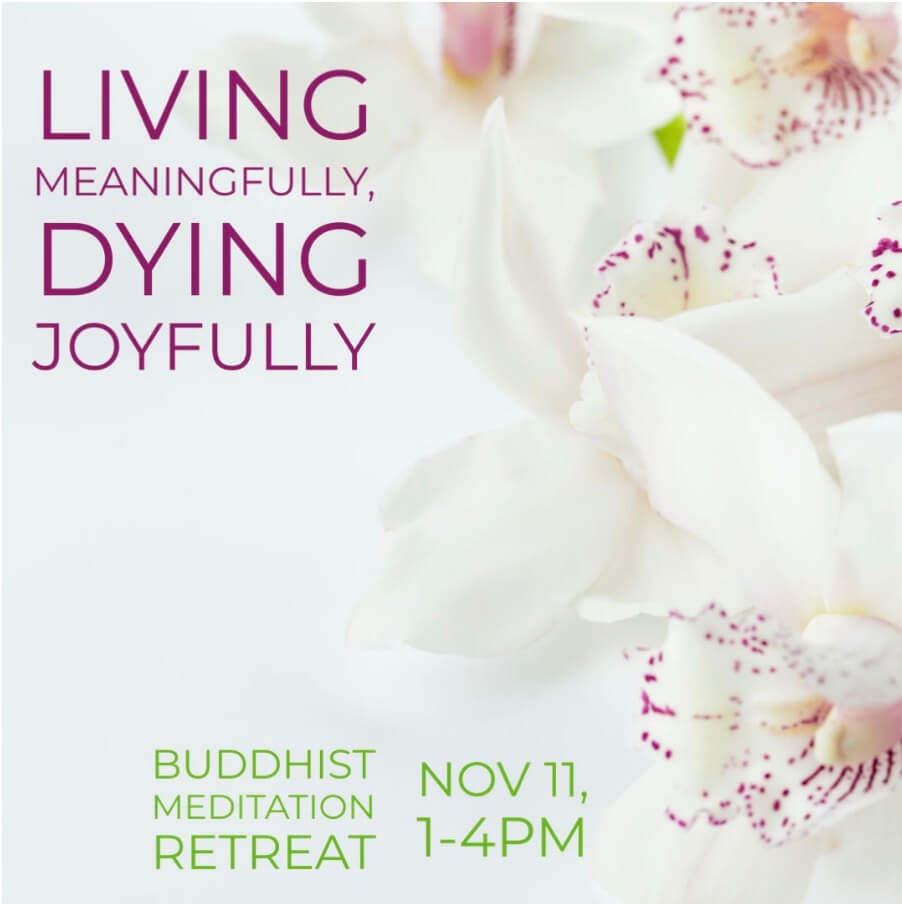 Date
Nov 11 2023
Expired!
Living Meaningfully, Dying Joyfully
A Journey Through Meditation
In the hustle and bustle of modern life, there's a profound need to reconnect with our inner selves, to understand the mysteries of life and death, and to find a path that leads to true peace and happiness. The "Living Meaningfully, Dying Joyfully" Buddhist Meditation Retreat offers an opportunity to embark on this deeply spiritual journey.
When & Where?
Date: November 11
Time: 1-4pm
Location: The Spire, 2nd floor, 82 Sydenham St, Kingston
A Glimpse into the Retreat
Hosted by the revered Kuluta Buddhist Centre, this retreat is a sanctuary for both seasoned meditation practitioners and curious newcomers. It provides a safe space to explore one's thoughts and feelings about life's most significant moments and the inevitable experience of death.
But why "Living Meaningfully" and "Dying Joyfully"?
To live meaningfully is to engage with every moment with purpose, understanding, and mindfulness. It is about cherishing every breath, every interaction, and every experience. When we live with meaning, we cultivate positive actions, engage in genuine relationships, and direct our lives towards beneficial goals.
To die joyfully might sound paradoxical to many. However, in the Buddhist perspective, understanding and preparing for death is not morbid but rather a natural progression of life. It's about acceptance, readiness, and the belief that death can be a transition to a more profound state of consciousness.
Why Attend?
Deepen Your Understanding: Learn about Buddhist philosophies and how they approach life and death, which can offer refreshing perspectives, regardless of your own beliefs or background.
Meditative Practices: Engage in guided meditation sessions that help you internalize these teachings, fostering inner peace and clarity.
Community Engagement: Connect with like-minded individuals and form bonds that could last a lifetime. The community at Kuluta Buddhist Centre is welcoming and supportive, making everyone feel at home.
Soulful Environment: The Spire, with its serene ambiance, is the perfect setting for this retreat, ensuring participants can deeply dive into their reflections without distractions.
Everyone is Welcome!
This event is open to everyone, regardless of background, age, or experience with meditation. The teachings and practices are universal, catering to the needs of every individual.
Life's journey is filled with moments of joy, sorrow, hope, and introspection. "Living Meaningfully, Dying Joyfully" is not just a meditation retreat but a doorway into understanding the essence of our existence. Whether you seek answers, peace, or simply a momentary escape from the demands of daily life, this retreat welcomes you with open arms.
Join us on November 11, and take a step towards a more meaningful life.