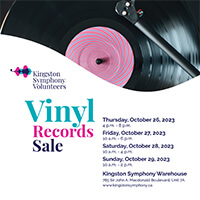 Date
Oct 26 - 29 2023
Expired!
Kingston Symphony Volunteers Vinyl Records Sale
Vinyl Vibes at the Kingston Symphony Volunteers Sale!
The distinct crackle of a record, the tactile pleasure of flipping through vinyl sleeves, and the joy of discovering a musical gem—these are experiences that vinyl aficionados cherish. This year, Kingston's renowned annual tradition, the Symphony Volunteers Vinyl Records Sale, is back and bigger than ever! For those whose hearts skip a beat at the thought of vinyl, CDs, DVDs, Bluray, and top-notch audio equipment, mark your calendars. Dive into a musical treasure trove that spans genres from pop rock and blues to classical, jazz, folk, and country. The range is staggering, and the prices? An absolute steal! Whether you're a seasoned collector or new to the vinyl scene, this sale promises albums to ignite every musical passion. What's even more heartwarming is that every purchase goes towards supporting the Kingston Symphony, a beacon of cultural excellence, in its mission to deliver stellar musical programs to the Kingston community.
Be There or Be Square!
The rhythmic beats and melodies await you at the Kingston Symphony Warehouse, located at 785 Sir John A. Macdonald Boulevard, Unit 7A. Each day brings its unique atmosphere, from the exclusive evening shopping experience on Thursday to the weekend's leisurely browsing sessions. But remember, the early bird catches the best records! So, don your favorite band tee, grab your fellow music enthusiasts, and make it a date. Together, let's celebrate, support, and continue Kingston's rich musical legacy. 🎶
SALE DATES & TIMES:
Thursday, October 26, 2023 | 4 p.m. – 8 p.m.
Friday, October 27, 2023 | 10 a.m. – 6 p.m.
Saturday, October 28, 2023 | 10 a.m. – 4 p.m.
Sunday, October 29, 2023 | 10 a.m. – 2 p.m.