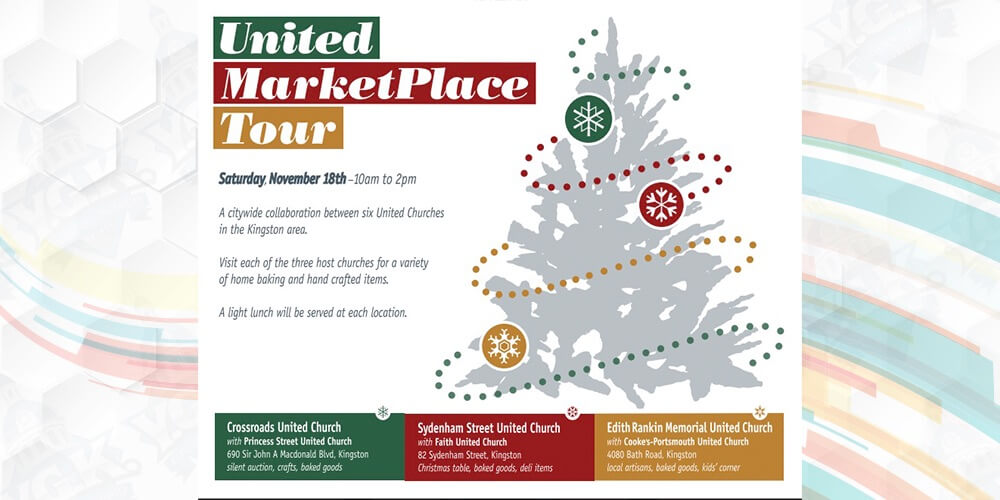 Date
Nov 18 2023
Expired!
United Marketplace Tour
Discover the Charm of Kingston's United MarketPlace Tour
Mark your calendars for a unique and festive experience this November 18th! Kingston's United MarketPlace Tour is just around the corner, promising a delightful blend of faith, community, and holiday spirit.
From 10 am to 2 pm, Kingston's six United Churches are joining forces to bring residents and visitors a citywide collaboration. With home-baked treats and meticulously hand-crafted items, there's sure to be something for everyone to enjoy.
Whether you're hunting for that perfect Christmas gift or just looking to spend a serene Saturday amidst the beauty of Kingston's historic churches, the United MarketPlace Tour offers a unique opportunity to dive into the holiday season.
Here's what's on the itinerary:
Crossroads United Church in collaboration with Princess Street United Church at 690 Sir John A Macdonald Blvd promises a serene selection of crafts and baked goods.
Sydenham Street United Church paired with Faith United Church at 82 Sydenham Street has a range of Christmas table essentials and delectable baked goods lined up for visitors.
And for those with little ones or looking for a bit more variety, Edith Rankin Memorial United Church with Cookes-Portsmouth United Church at 4080 Bath Road is the place to be. Local artisans will showcase their craft while a special kid's corner ensures fun for the entire family.
The best part? Each location will also be serving a light lunch, providing a cozy space for visitors to relax and soak in the holiday atmosphere.
So, gear up for a heartwarming tour that not only celebrates the spirit of Christmas but also the unity and diversity of Kingston's vibrant church community. The United MarketPlace Tour beckons you for a day filled with faith, festivities, and flavors. We hope to see you there!