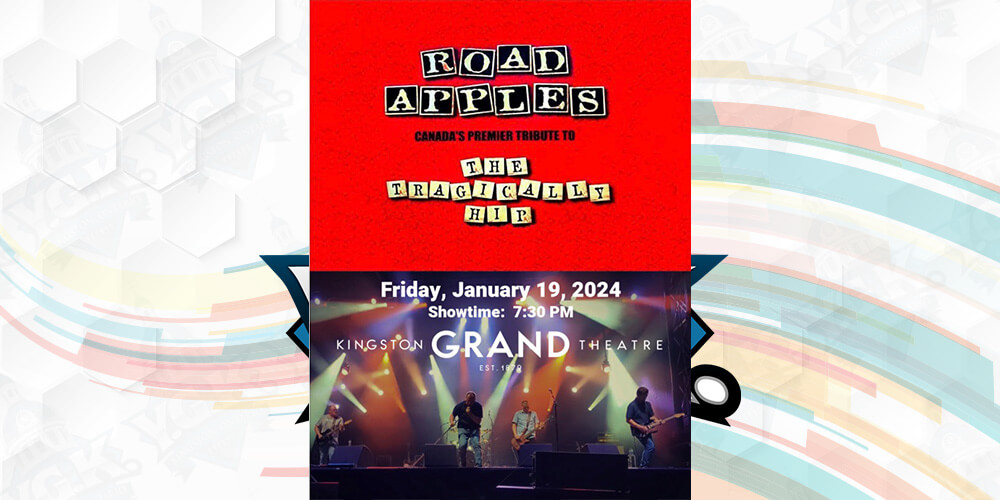 Road Apples Live In Kingston
Road Apples Lights Up Kingston Grand Theatre!
This January 19th, the Kingston Grand Theatre will reverberate with the nostalgic echoes of one of Canada's most cherished rock bands, The Tragically Hip, as the dynamic tribute group, Road Apples, takes the stage. Known for their uncanny ability to channel the legendary sound and spirit of The Hip, Road Apples doesn't merely play music; they breathe life into the iconic anthems that defined a generation. Every note, every lyric, is delivered with an intensity and passion that evokes the unmistakable energy of Gord Downie and his crew in their prime. The raw, emotional connection between the band and their audience serves as a potent reminder of The Hip's unparalleled legacy in the annals of Canadian rock history.
Road Apples isn't just a cover band – they're a time machine, transporting fans back to those nights of pure, electrifying rock and roll magic. From the opening riffs to the last encore, attendees can expect a roller-coaster of emotions, re-living the memories and relishing the unique experience that only The Tragically Hip's music can provide. And with Road Apples' magnetic stage presence and meticulous attention to detail, it's the closest thing to seeing The Hip live once again. Don't miss out on this celebration of Canadian musical heritage – grab your tickets and be part of this unforgettable evening at the Kingston Grand Theatre!