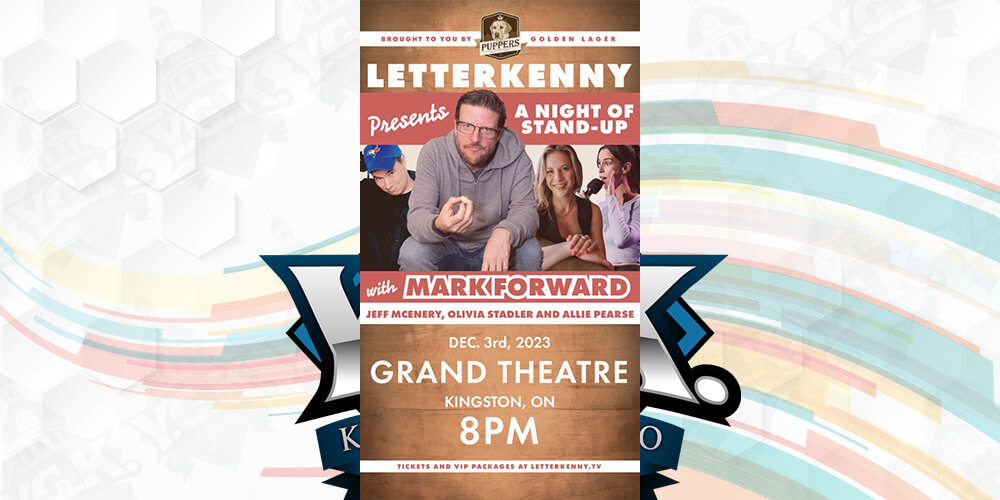 Date
Dec 03 2023
Expired!
Letterkenny Presents Mark Forward Live
Get ready to split your sides with laughter at the Grand Theatre in Kingston, ON, because the Letterkenny family is coming to town with a comedy night you won't forget! Puppers Golden Lager is thrilled to bring you "A Night of Stand-Up" on December 3rd, 2023, featuring a lineup of comedic talent that's sure to leave you in stitches. Headlining the event is the uproariously funny Mark Forward, known for his role as the fan-favorite Coach on the beloved Canadian series Letterkenny. Forward's unique blend of humor has captured the hearts of fans across the nation, and he's gearing up to take the stage with the same gusto he brings to the screen.
But the laughter doesn't stop there! Jeff McEnery, who you might recognize as Alexander from the show, is ready to share his witty observations and side-splitting storytelling. Alongside these seasoned laugh masters are two incredible talents from behind the scenes: writers Olivia Stadler and Allie Pearse. These brilliant minds have not only contributed to the sharp, snappy humor of Letterkenny but have also lent their comedic chops to its spin-off, Shoresy, proving their ability to bring down the house with their writing and stand-up performances. Doors open at 8 PM for a night packed with humor, where beer and belly laughs are the main agenda. Secure your tickets and VIP packages at letterkenny.tv, and come join us for a night where the punchlines are as smooth as a cold Puppers Lager!