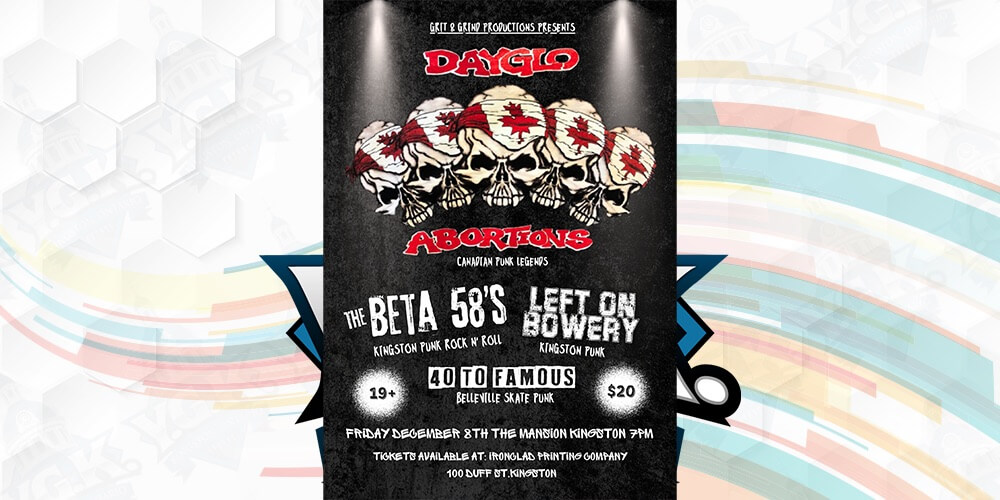 Kingston Punk Night Feat DAYGLO ABORTIONS, THE BETA 58'S and LEFT ON BOWERY
Punk Rock Enthusiasts Rejoice! Grit & Grind Productions is amping up the energy in Kingston with an electrifying event showcasing some of the most iconic punk rock legends and rising stars. Headlined by the formidable DAYGLO ABORTIONS, this event promises to be an unmissable night for fans of raw, high-voltage punk music. Canadian punk legends in their own right, the DAYGLO ABORTIONS are known for their explosive performances and rebellious anthems, guaranteeing a night of thrashing rhythms and mosh pit excitement.
Joining the lineup are THE BETA 58'S and LEFT ON BOWERY, local heroes who will deliver their distinct Kingston punk rock flair, ensuring the crowd is pumped and ready. Adding to the mix is 40 TO FAMOUS, bringing their unique blend of Belleville skate punk to the stage, all set to leave an indelible mark on the audience. Set for Friday, December 8th at The Mansion Kingston, doors open at 7 PM for those eager to catch the best of punk rock in one unforgettable evening. Tickets are a steal at $20, available at Ironclad Printing Company, 100 Duff St. Kingston. It's a 19+ event, so bring your ID and get ready to rock the night away with fellow punk aficionados.