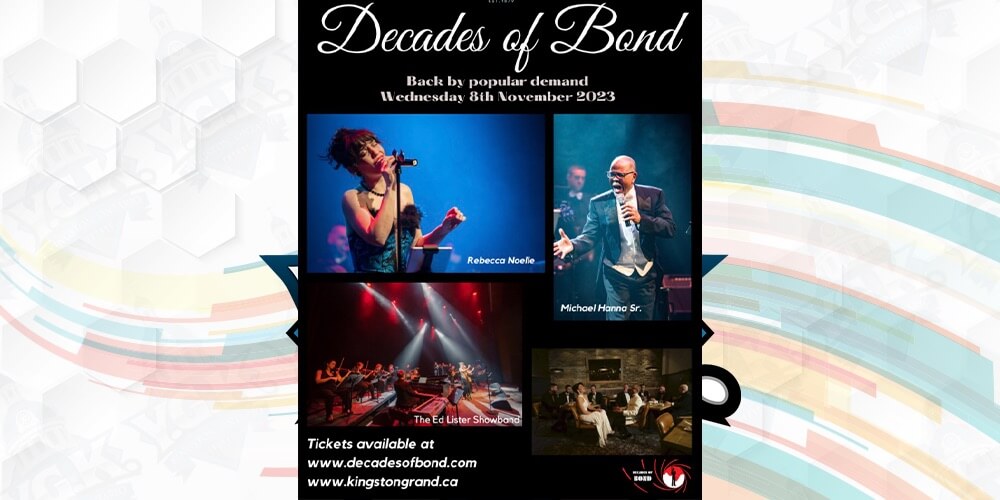 Date
Nov 08 2023
Expired!
Decades of Bond Live
Decades of Bond: A Musical Tribute to an Iconic Film Series
The cinematic world of James Bond is as much about its electrifying music as it is about espionage, thrilling car chases, and charismatic villains. Enter "Decades of Bond," the quintessential tribute to this legendary film franchise's musical journey. Led by a 13-piece show band featuring North America's cream of the crop musicians, you're in for an unparalleled auditory treat. Dive deep into the music that spanned from 'Thunderball' to 'Skyfall,' and let the mesmerizing voices of Rebecca Noelle and Michael Hanna Sr. transport you through time. Rebecca's rich history, from sharing stages with luminaries like B.B. King and Norah Jones to her impactful jazz album, paired with Michael's dexterous melding of Jazz, blues, and Gospel, guarantees a performance of sheer magnetism.
But the magic doesn't stop there. Behind this spectacular production is the genius of Ed Lister, a Juno Award-winning Trumpeter and Composer, hailing from London. Now an essential part of Ottawa's music scene, Ed's intricate arrangements and orchestrations for 'Decades of Bond' underscore the show's dedication to authenticity and brilliance. Whether you're a die-hard 007 aficionado or simply a lover of great music, "Decades of Bond" promises an evening of nostalgia, excitement, and unparalleled musical mastery. So, prepare to be enchanted as the curtain rises, and the iconic notes of Bond fill the air. Don't miss this "Ed Lister Music" production – where the world of Bond comes alive in melody and rhythm.