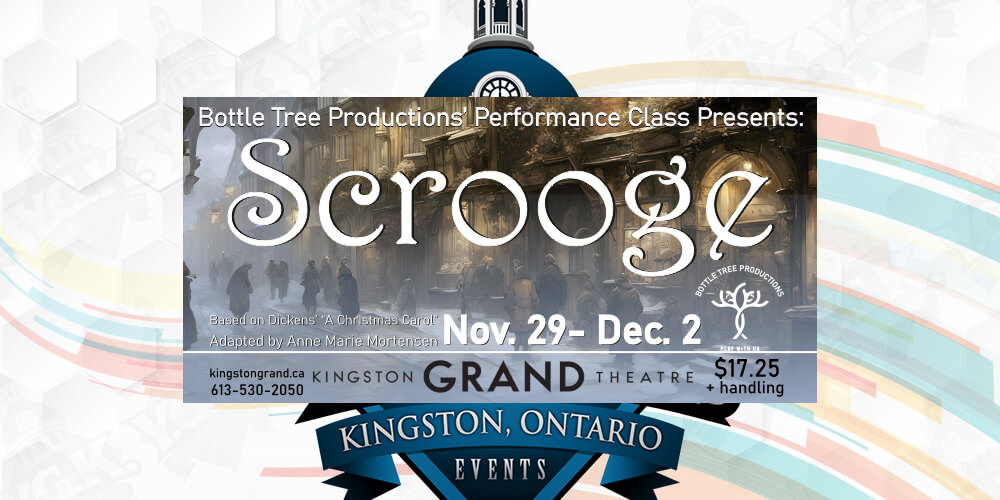 Date
Dec 02 2023
Expired!
Bottle Tree Productions Presents: SCROOGE
This holiday season, immerse yourself in the timeless tale of redemption and transformation with Bottle Tree Productions' presentation of "SCROOGE." Set to take the stage at the intimate Baby Grand venue in Kingston's Grand Theatre, this classic story unfolds from November 29th to December 2nd, offering both evening and matinee performances. The Performance Plus Teens, a talented ensemble of young actors, breathe new life into Charles Dickens' "A Christmas Carol," under the masterful direction of Anne Marie Mortensen. This original adaptation promises to captivate audiences with its poignant narrative and unforgettable characters, led by Kian Watters, Oona Berger, Meghan MacVicar, Brock Walker, Carter Bomba, Essie Latimer-Scahill and Jesse Sulpher.
"SCROOGE" tells the story of a miserly and cold-hearted man, whose life takes an extraordinary turn one Christmas Eve. Haunted by the ghost of his former business partner, Jacob Marley, and visited by three spirits, Scrooge confronts the consequences of his bitter life. This production is not just a play; it's an experience that encapsulates the spirit of Christmas and the power of second chances.