I've been doing internet marketing for a living since 1996, and I have applied all of the social media and search engine strategies to YGKEvents.com. I've made this website one of the most followed and most visited Kingston websites there is, and now I'm able to promote your business to the demographics you seek, at a very low cost.
I know how hard it is to promote your business in this day and age. Social Media Marketing. Search Engine Optimization. Digital Marketing. Influencers. Instagram stories. It can be overwhelming.
I've spent the last few years on YGK Events really getting to understand the Kingston audience. Figuring out what they're most interested in, what gets a reaction, and testing out various ad spots on the site to see what works and what doesn't.
I'll be able to drive both Kingstonians and tourists to your business all year round.
Whether you want to offer a special deal, a coupon code, or just want to increase the awareness of your business.
Think of the amount of new customers you are going to reach when advertisements like this are sent to our 30,000+ social media followers: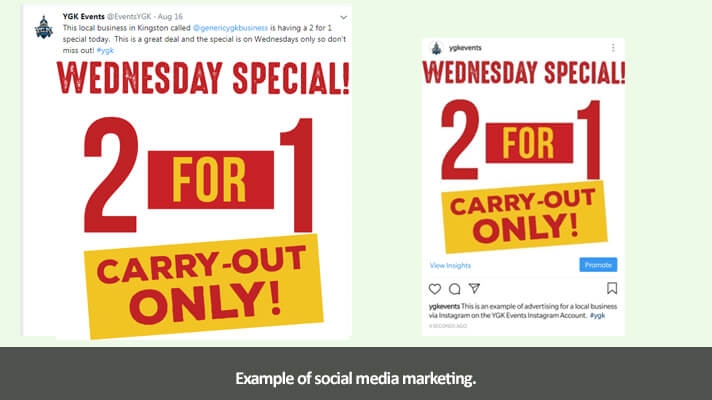 Our YGK Social Media Shoutout Package for businesses offers incredible value. Here is what you get:
YGK Social Media "Shoutout" Package
2 social media posts on all our social media channels (Facebook, Twitter, Instagram)
Reach over 30,000 Kingston residents
Featured advertisement in our weekly e-mail newsletter with over 12,000 subscribers
Contact me to purchase: