I've been doing internet marketing for a living since 1996, and I have applied all of the social media and search engine strategies to YGKEvents.com. I've made this website one of the most followed and most visited Kingston websites there is, and now I'm able to promote your business to the demographics you seek, at a very low cost.
YGKEvents.com reaches over 70,000 people on an annual basis and has over 30,000 social media followers. We outrank actual event listings and businesses/venues due to our strong search optimization.
I know how hard it is to promote your business in this day and age. Social Media Marketing. Search Engine Optimization. Digital Marketing. Influencers. Instagram stories. It can be overwhelming.
I've spent the last few years on YGK Events really getting to understand the Kingston audience. Figuring out what they're most interested in, what gets a reaction, and testing out various ad spots on the site to see what works and what doesn't.
I'll be able to drive both Kingstonians and tourists to your business all year round.
Whether you want to offer a special deal, a coupon code, or just want to increase the awareness of your business.
Think of the amount of new customers you are going to reach when advertisements like this are sent to our 30,000+ social media followers: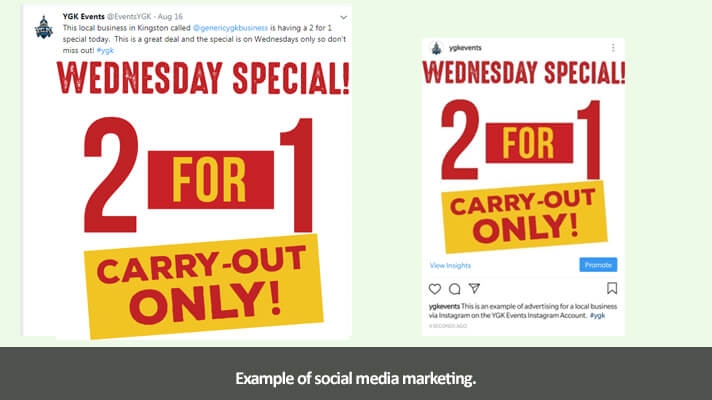 Our YGK Social Media Shoutout Package for businesses offers incredible value. Here is what you get:
YGK Social Media "Shoutout" Package
2 social media posts on all our social media channels (Facebook, Twitter, Instagram)
Reach over 30,000 Kingston residents
Featured advertisement in our weekly e-mail newsletter with over 12,000 subscribers
Contact me to purchase:
---
Advertising on the Website:
I also offer the ability to advertise on the website. Due to the work involved in setting this up, there are is a minimum of a three month commitment, with a special deal if you purchase one year of advertising.
YGK Events Advertising Package:
The YGK Events Advertising Package consists of all of the following:
You can see examples of all of these advertising options in the gallery below using various local businesses as examples:
Advertising Rates:
There are two packages on offer. The first is all of the above on a month by month contract with a minimum of three month commitment. The cost of this is just $150+HST per month.
I'm also offering an annual contract and this is one I much prefer as it works better for both of us as it offers more long term benefits including long term search engine benefits for your business. If you subscribe to the annual contract, you get two months free. So it is just $1200+HST for 12 months, plus a satisfaction guarantee.
And trust me – I'll make sure you are more than satisfied with the work I put in driving people to your business. I only like to partner with businesses that I want to help be successful and want more people to know about and that's why I offer the best possible value.
Here are what you get within each advertising package:
| | Monthly | Annual |
| --- | --- | --- |
| | | |
| Event Text Advertising | ✔ | ✔ |
| Banner Advertising | ✔ | ✔ |
| Featured Events | ✔ | ✔ |
| Business Directory Basic Listing | ✔ | ✔ |
| Business Directory Featured Listing | | ✔ |
| E-Mail Newsletter Advertising | | ✔ |
| Social Media Advertising | | ✔ |
| Blog Post Advertising | | ✔ |
| Targeted Marketing Within Content | | ✔ |
| Advertising on Events Calendar | | ✔ |
| Satisfaction Guarantee | | ✔ |
Prior to purchase I will provide a contract for us to sign listing the specifics of the types of advertising, a complete outline of what advertising I will be implementing for your business, and what you get from the forms of advertising. I will work with you to make sure we offer the best form of advertising both for your business, and for the YGK Events audience.
You can contact me at
ygkevents@gmail.com
with any questions.